Regular price
$199.95 USD
Regular price
Sale price
$199.95 USD
Unit price
per
Sale
Sold out
Share
View full details
Remote Start System for 2009-2014 Nissan Maxima Push-to-Start
Sedan 6 Cyl. Auto
* * * * * * * * *
*****************************************************************
Remote Start System for 2009-2014 Nissan Maxima Push-to-Start
Sedan 6 Cyl. Auto
*****************************************************************
Supports remote start from the factory transmitter by pressing 3
X LOCK. Includes custom t-harness for easy installation. Can be
paired with compatible range extender kits sold separately.
THIS UNIT MUST BE PROGRAMMED (FLASHED) IN ORDER TO FUNCTION WITHYOUR SPECIFIC VEHICLE.
Please contact us if you would like us to provide you with the appropriate INSTALLATION GUIDE.
We can eliminate the hassle of programming your remote start, as we provide free flashing after the purchase of each unit! To save yourself the trouble, please contact us by sending us the following vehicle specifics to our email.
FOR EXAMPLE
Vehicle Year: 2014
Vehicle Make: Honda
Vehicle Model: Civic
Engine Type: 4 Cylinder / 6 Cylinder / 8 Cylinder
Ignition Type: Push-to-Start / Standard Key Start
Key Fob: Factory / Aftermarket
PLEASE NOTE
that SOME vehicles require a mandatory KLON flashing
in order for it to operate with this remote start. Part of the in order for it to operate with this remote stat will require not only the remote start, but your vehicle and key fob, which we do not have access to. You will be responsible for completing this step.
An ADS-USB Weblink Updater Flash Loader USB Cable will be required for vehicles that require KLON. We will notify you via email if your vehicle falls within this category.
HOW THE KLON PROCESS WORKS:
1. We already pre-programmed your unit to your vehicle.
2. During the installation process (as per your installation
guide) you will have to connect the unit to your PC via the ADS-USB Cable (sold separately).
3. Once connected you will visit idatalink.com using the Internet
Explorer browser.
4. You create a free account.
5. You will be prompted to install a small extension.
6. Once you install the extension and refresh the page, the website will detect your unit and may ask you for your vehicle information to complete the programming process and install the correct firmware on to your unit.
Compustar FT-DC3-LC Firstech Remote Start Module
Universal remote start solution designed for high and low-current
draw vehicles. Enables (3XLOCK) remote start from the factory key
fob. Supports Firstech RF kits and DroneMobile telematics for
additional range. Compatible with iDataStart t-harnesses sold
separately for seamless, 'plug & play' installation. NO KEY
REQUIRED for immobilizer bypass on most vehicles.
iDatastart ADS-THR-NI5 Remote start T-harness for select 2007-up
Nissan and Infiniti vehicles
Factory fit installation T-harness for select Nissan/Infiniti
push-to-start models from 2007 and up. Plugs directly into
vehicle factory connectors with little-to-no analog connections
required. Compatible with select iDatastart, Firstech,
Flashlogic, Omegalink and Orbit branded remote start systems.
PLEASE ALSO NOTE that SOME vehicles require an RF KIT.
Below are
a few remote options that may be available for your vehicle.
COMPATIBLE REMOTES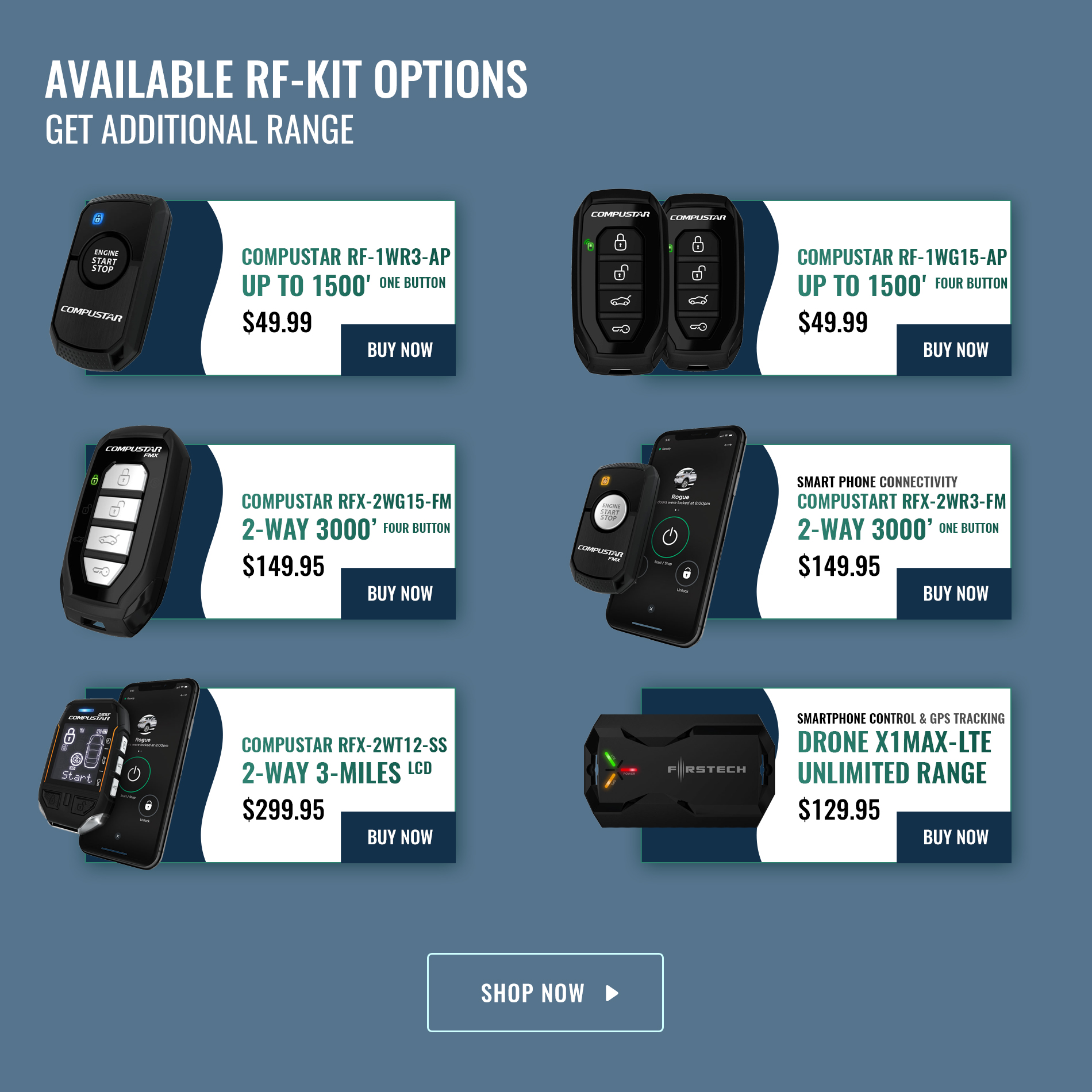 :
( https://www.ebay.com/str/selecttrades/Aftermarket-RF-KITs/_i.html?store_cat=21230427015&_sop=15 )
FEATURES
Remote Start for 2009-2014 Nissan Maxima Push-to-Start Sedan 6 Cyl. Au